Yamaha EMP700 effects processor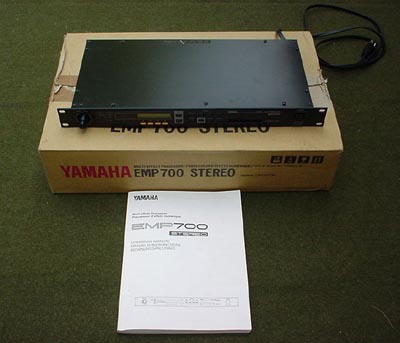 This rack mount unit was state-of-the-art about a decade ago and it still has great value in portable and mini studio applications. Features all of the standard effects such as delay, echo, reverb, pitch bend (full octave up OR down in halftone increments!), flanger, phasing, pseudo-stereo, hall effects, etc., plus the ability to make your own using internally stored configurations.
EXCELLENT CONDITION!! Hardly used. One owner.
90 pre-programmed effects (see literature above)
99 additional "User Definable" effects
Mono or Stereo operation
Memory card slot for additional configuration storage
1RU size rack mountable unit
Original box + original manual
The manual provides excellent detail on how to program your own effects, through both pictorial and verbal descriptions of the processing stages.
Original retail cost over $500.00
US $179.00 + shipping ($15 to anywhere in 48 States)
Policies: No refunds except for defective merchandise. All items come with a 7 day warranty. If item is damaged in transport you must file claim with carrier.
Payment: Cash, Personal Check (allow 5 business days to clear), money order, credit card via PayPal (add $5 processing fee), or bank draft.
Contact: Use this feedback form and include your name and phone/email.
---
Other items currently for sale: